Dear North Ardmore Neighbors:
North Ardmore and North Wynnewood are extraordinarily fortunate as attractive residential neighborhoods, combining leafy tranquility with unusually convenient access to the vital commercial districts of downtown Ardmore, Suburban Square, and the two Wynnewood shopping centers, as well as to public transit. Montgomery Avenue continues to serve as a distinguished and elegant parkway through Lower Merion. At a time when the Township is experiencing tremendous growth pressure, especially in the residential sector, we need to encourage and promote continuing improvement in the commercial districts while maintaining the tranquility, convenience, and pedestrian oriented access that we depend on.
This was the focus for our Annual Membership Meeting on Monday 10/23/17. Our first speaker, Christine Vilardo, director of the Ardmore Initiative, surveyed all the new business initiatives in downtown Ardmore. It comprises a dazzling array of new restaurant, retail, and service businesses that truly serve all of our needs while providing amenities that are attracting a growing regional customer base.
Our second speaker, Chris Leswing, has just been promoted to head the Township's Building and Planning Department. Chris is the principal author of the Township's new comprehensive plan, and is the principal liaison to the consultants DPZ Partners LLC, who have been engaged to write an almost completely new zoning code for Lower Merion. One of the main thrusts of the new Comprehensive Plan is the importance of treasuring, preserving, and enhancing the attractive characteristics of our residential areas. As everyone knows, we are facing a population explosion in the elementary grades of the LM School District and a huge number of new apartments currently under construction. How is the Township preparing to address the impact of this growth on the basic infrastructure, and how will it act to keep this growth from degrading our quality of life. Can our new zoning code help?
In our immediate neighborhood, we are looking at a proposal for 158 new apartments at Suburban Square along Coulter Avenue, the opening of the 250 new apartments at Maybrook adjacent to the Wynnewood train station, and projected massive growth at Lower Merion High School. There is also pending a plan to redevelop 205 Llanfair Road, demolishing the historic arts-and-crafts house and 50 trees on the property and replacing them with two almost identical McMansions.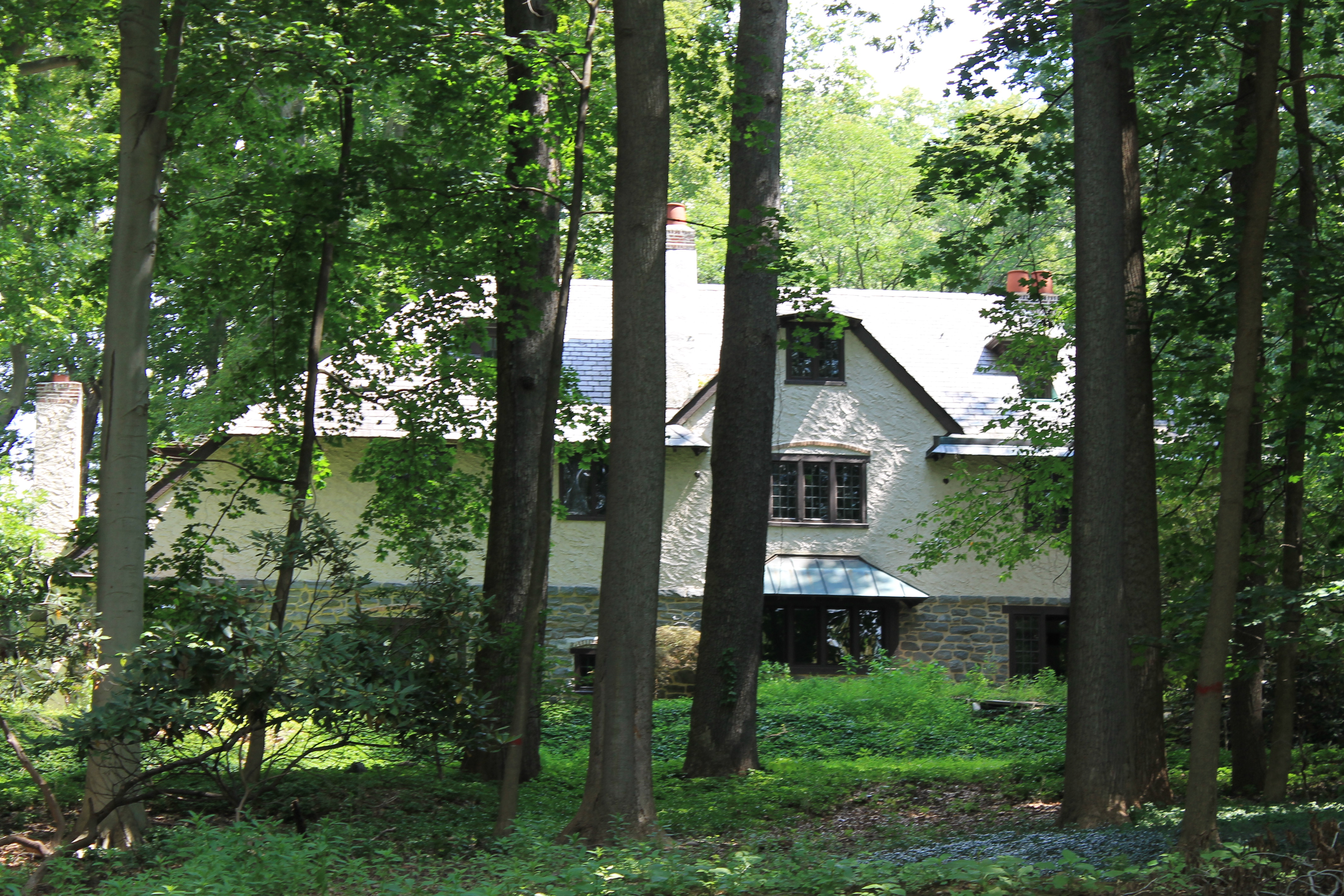 205 Llanfair Road – the Endangered Horace Wells Sellers Arts & Crafts Beauty
There is also a germinating plan to demolish three of the characteristic and unique single-family homes on Montgomery Avenue between Glenn and St. George's Roads, replacing them with a large apartment building. These last two projects would leave an indelible scar on our landscape and we will have lost some essential features that make our neighborhood beautiful; it seems that these are by-right developments under our current zoning, and the best we can do is to try to mitigate their impacts. We still are searching for an angel to save the historic Horace W. Sellers house and the woods at 205 Llanfair, top of the Lower Merion Conservancy's list of endangered historic residential properties.  These are typical proposed developments that implicate so many of the zoning and planning issues in the Township.  
Sincerely,
Hugh B. Gordon                                                                                                                                              President, North Ardmore Civic Association